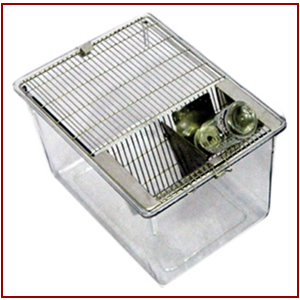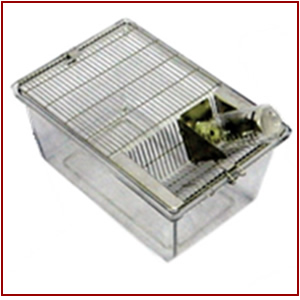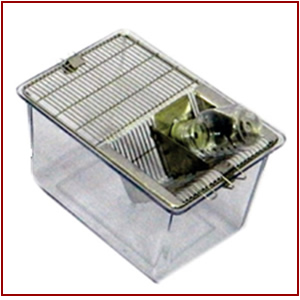 Transparent Polycarbonate Mice Cage
Cage Body –
Fully Transparent Body.
The specialty of this cage is the end user can
watch the activities of Animal from outside
without touching the cage which is very
Useful in Experimental Science.
Autoclavable at 121 C temperature
and pressure 15 LB/ Sq inch.
Food Grade quality material

Electro Polish Stainless Steel Top grill–
AISI 304 quality stainless steel material.
 Provision for fixing water bottle.
Provision for Feed Pallets.
 With two hooks for fixing the grill to the top of the body of cage.
Welded on a frame of 4mm SS Rod.
 With gap between the wires will be 5mm.

Water Bottle–
Unbreakable, Autoclavable at 121 C.
Food Grade quality Polypropylene.
Capacity 300 ml.
With Neoprene Rubber cork.
With 304 quality stainless steel Nozzle.
Polycarbonate Mice cage Size: 290 x 220 x 140mm  
Product /Product Code
Size
Floor Area Sq.Cn.
Transparent Polycarbonate  Mice Cage

Product Code No. VT/PC/290/MC

290 x 220 x 140mm  

450

Transparent Polycarbonate  Rat Cage

Product Code No. VT/PC/410/RT

410 x 282 x 150mm

888

Transparent Polycarbonate  Rat Cage

Product Code No. VT/PC/421/RT

421 x 290 x 190mm

950